Reading at St Pius X Catholic Primary School
The following information is a requirement to be published on all school websites.
At St Pius X Catholic Primary School, our aim is not only to teach children the skills to read with confidence, fluency and understanding, but also to foster a genuine desire to read for pleasure and purpose. We want our pupils to become enthusiastic and critical readers of stories, poetry, non-fiction and media texts. All children are encouraged to take books home each day to practise and reinforce the skills taught in school,. The valuable link between home and school will help enormously and is really rewarding for all concerned.
Reading and phonics will be taught daily through the Letters and Sounds programme. Phonics form the daily basis of reading development in Reception and KS1 and phonically decodable reading books are used to develop the children's reading skills. At St Pius we use Bug Club and Oxford Reading Tree to support early readers. In EYFS and KS1, children have two weekly, in-depth, 1-1 reading sessions with an adult which is tailored to suit the individual child's needs. Extra support is provided in all year groups for those children who are not progressing as quickly as their peers. Volunteer reading mentors also read with children weekly in Reception, Year 1 and Year 2.
Children continue to work through the stages of Bug Club and Oxford Reading Tree until they are fluent enough and, most importantly, have sufficient understanding of text to move on to chapter books. as well as reading individually, children read in guided reading sessions at least once a week across the school.
Parents are encouraged to become involved in the development of their child's reading by sharing books and reading with their child/ren regularly. Your child will bring home a variety of books to read and share. Parents are encouraged to come into school to help children choose books and talk about their child/ren's reading with staff. Further guidance for adults can be found at:
http://www.oxfordowl.co.uk/for-home/reading-owl/top-tips-3/julia-donaldsons-top-tips
http://www.ruthmiskin.com/en/resources/sound-pronunciation-guide/
Recommendations of children's books:
www.booktrust.org.uk/books/children/best-book-guide
http://schoolreadinglist.co.uk
.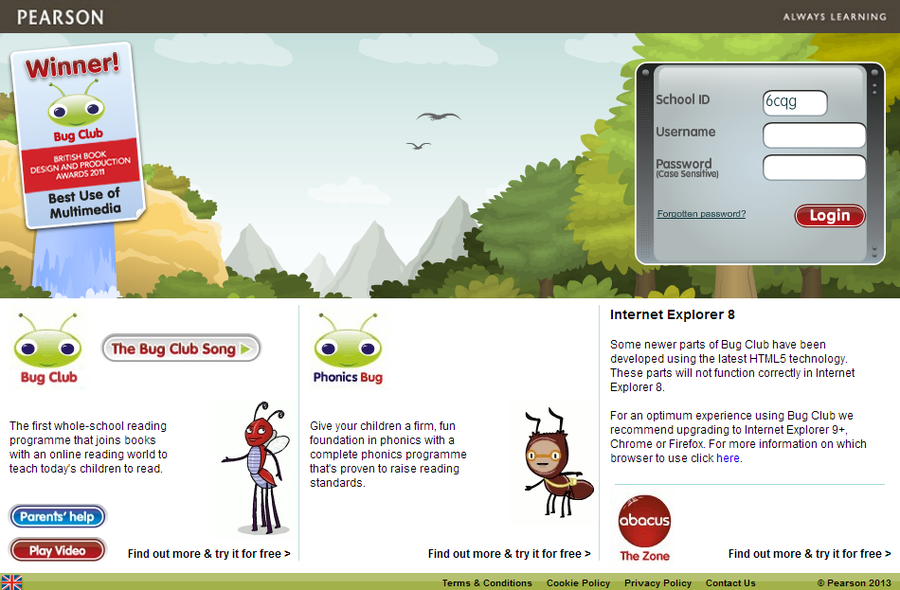 Log in to your account at www.bugclub.co.uk to improve your reading at home using the computer!
If you are reading at level 26 (Lime) or below, your class teacher has your password and username and can show you how to use the new reading scheme.